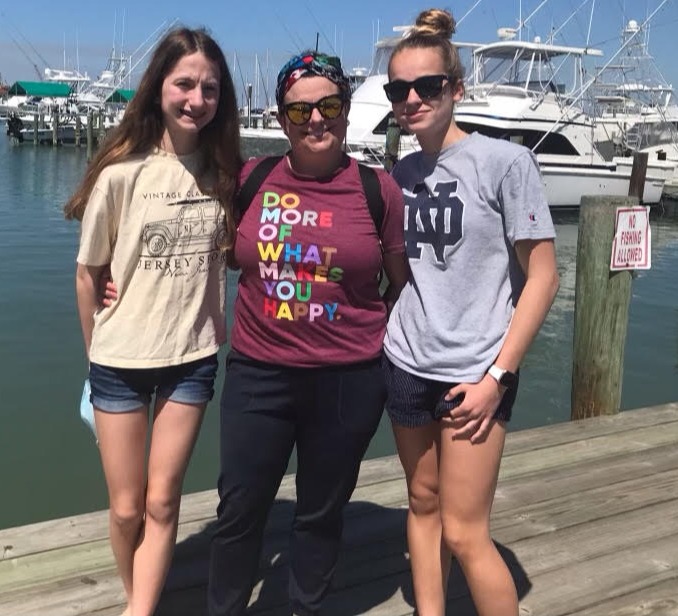 Hello! My name is Jennifer Marie Gurtner and I was diagnosed with ER-positive, PR-positive, HER2 negative breast cancer on Feb 14, 2020, at the age of 43, after finding a lump just below my left breast. This was less than two weeks after receiving a "passing" or all clear" mammogram. After a few biopsies, CT scans, and MRI's, there were actually two tumors in my left breast. Following the recommendation of my oncologist Dr Bilal Ansari and surgeon Dr Michael Rotkis, a partial mastectomy was performed on the left breast with mammoplasty on the right breast to match. During surgery six lymph nodes were removed and two tested positive for the same cancer.
At that point Dr Ansari recommended starting Chemotherapy right away; however, the wound from surgery had to be fully healed first. Chemotherapy was delayed one month since one spot on the left breast where the largest tumor was located re-opened. During the waiting time to start chemotherapy, I requested copies of all the reports from surgery. I struggled through them and read that tumor margins were not clear. At that time I decided to get a second opinion and went to the Simon Cancer Center in Indianapolis and met with an amazing young female oncologist named, Tarah Ballinger. Dr. Ballinger along with her pathology team read through all of the medical records and even re-tested themselves the tissues removed during surgery.
The team recommended a mastectomy of the left breast. This was very upsetting since I initially wanted this but was told insurance would not pay for it. So instead of checking that information, I just went with the recommendation from Dr. Ansari. Dr. Ballinger and team agreed with Dr. Ansari's recommended treatment and also to start treatment right away.
Finally, in June, chemotherapy began. At 6/8 treatments in August 2020, I had an allergic reaction to the second chemotherapy medication and ended up in the ER after a brief illness. The ER doctor decided to run a CT scan looking for a blood clot in chest. At that time a large mass was found in the right lung. The ER called my husband in to let them know she suspected it was cancerous mass at that time due to my condition and current situation. The next morning, Dr Ansari called to let me know I needed to see a lung doctor. Dr Alani had to perform a bronchoscope procedure. It was thankfully determined pneumonia. Dr Ansari had to stop the chemotherapy because my body could not endure anymore.
Finally, after two months of steroids and antibiotics, I went in October 2020 for my CT scan of the lungs to ensure the pneumonia was gone from the right lung. At the follow up appointment after the CT scan results were read, Dr. Ansari informed me that they found some suspicious spots on my spine and sternum and he recommended a full body scan. The the scan showed more spots on my bones with the largest tumor being on my hip. The tumor was biopsied and it wasn't that breast cancer that has metastasize to my bones and I was stage four. I was devastated. I received a new treatment plan from Dr. Ansari and also went to the mayo clinic to get a second opinion where I was happy to find out the mayo clinic also agreed 100% with Dr. Ansari's treatment plan.
I have been on the treatment plan for about six months. I will have scans every three months to find out if the cancer has spread. This is definitely a new way of life to get used to. I feel as if I have one foot in the world of believing I can live a long time but yet the other foot in the world of the reality it could change at any moment directly impacting my longevity. I give all credit to plastic surgeon, Dr. Patrick Viscardi, who did an amazing job on my breasts. Also, Dr Ansari and team for providing such good care.
Today, my hair is slowly coming back in and I continue to work part time from home as an accounting manager. I am happily married for 16 years and have three children- a boy and twin girls. I stay busy—love to travel; play with my Pomeranian and best friend, Stormy, crocheting, Sudoku, and reading.