You're BRAVE.
We value diversity, equality, and inclusion.

In addition to winning a fight against breast cancer, we believe that every woman should be empowered to take back her confidence following breast surgery.
At BRAVE, we believe that being equipped with knowledge and access to support resources should be a fundamental right, regardless of the color of skin, genetics, level of education, language spoken, socioeconomic status, access to insurance, or geography. At BRAVE, we believe that addressing these common barriers to full restorative care can help women confidently make the choices that are right for them and regain their sense of self worth and value following what can be devastating, life altering effects of a breast cancer. We help women achieve this by extending our network of plastic surgeons and strategic alliance partners in healthcare to provide education, access, and support to women wherever they are in the United States.
In particular, there is growing understanding in our nation that there are many barriers for women of color and other underserved populations in healthcare. Complex, multifaceted healthcare barriers make no exception when it comes to breast reconstruction. Be a part of the solution.
Individuals & Community-based Organizations:
Whether you are an individual who has fought this battle, know someone who is in the fight, or are just someone who cares, learn more about how you can be a part of the solution or get help for someone you know.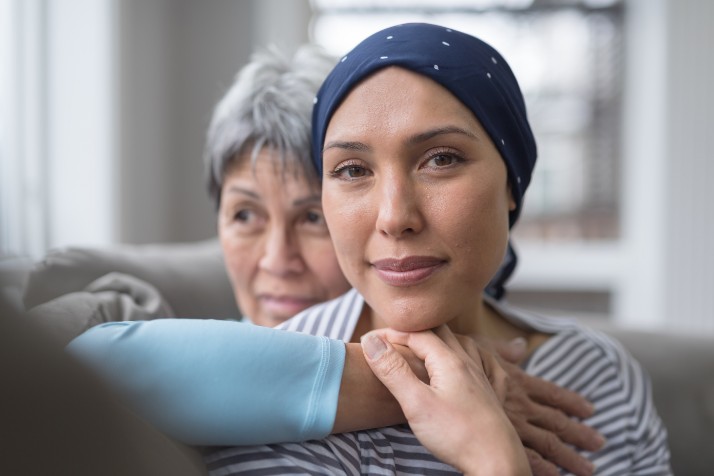 Healthcare Companies with a Passion for Helping Women Win:
If you believe your company is poised to help more women take back their confidence, sense of self worth, and ability to live life to the fullest, learn how you can partner with BRAVE to help.
We are in this together and women don't have to fight alone.
White women are more likely to have immediate reconstruction than women of other ethnicities.
Asian, Pacific Islander, and Native American women
Among plastic surgeons in the U.S., the rate of breast reconstruction surgery post breast cancer is decreasing primarily due to unattractive reimbursement rates.
In fact, 44% of surveyed plastic surgeons reported a decrease in their volume of breast reconstructions from 2016 to 2019, compared to the three years prior. Additionally, of the 51% of plastic surgeons surveyed who do not "currently perform" breast reconstruction surgery, 57% cited reimbursement issues as the main driver of this decision.
of surveyed plastic surgeons
CITED REIMBURSEMENT ISSUES
as the main driver for no longer performing breast reconstruction surgery
The trend is not irreversible, however. The large majority of those who no longer perform breast reconstruction would return to the procedure if reimbursement rates were to increase to the point of covering costs and being revenue generating.
In the future, the ability to reduce this distressing downward trend in breast reconstruction surgeries in the US is contingent on an improved awareness of the societal benefits of reconstruction post-cancer surgery and addressing the current deficiencies in the US reimbursement system for this vital procedure.
BRAVE is doing just that.
References: 1. Alderman AK, Hawley ST, Waljee J, et al. Correlates of referral practices of general surgeons to plastic surgeons for mastectomy reconstruction. Cancer. 2007;109:1715–1720. 2. Retrouvey H, Solaja O, Gagliardi AR, et al. Barriers of access to breast reconstruction: a systematic review. Plast Recon Surg. 2018;143:465e–476e. 3. Xue, Erica Y. MD, MS; Chu, Carrie K. MD, MS, FACS; Winocour, Sebastian MD, MSc, FACS; Cen, Nicholas BS;Reece, Edward MD, MBA, FACS. Establishing a Telemedicine Program for Breast Reconstruction. Plastic and Reconstructive Surgery – Global Open: March 2020 – Volume 8 – Issue 3 – p e2594 4. Women's Health and Cancer Rights Act www.cancer.org